YASMAK SULTAN HOTEL






First Class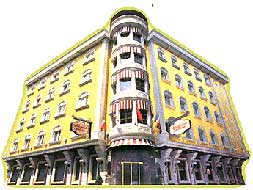 Address: Ebusuud Cad. No: 18-20 Sirkeci
34410 İstanbul

Hotel Info:
84 rooms, 168 beds, 6 suites
Room Details: All rooms are equipped with direct dial telephone, shower & toilet, bathtub, music, TV, air conditioning, minibar, safe deposit, hair-dryer, balcony. Rooms are heated by central heating.
General facilities: This hotel also has air conditioning and central heating in public areas, TV lounge, internet cafe, Turkish Bath, sauna, gym, outdoor parking area, indoor parking area, power generator. Hairdressing service is also available.
Wining & Dining: There are 2 restaurants with 100 pax indoor and 200 pax outdoor capacity. The breakfast lounge can serve up to 100 pax. The patisserie, snack-bar are also at your sevice. The lobby bar, terrace bar, Vitamin Bar will be serving for your leisure time.
Meeting Facilities: There is 1 meeting hall and is 1 meeting hall with various equipment including overhead projector, slide projector, microphone. The meeting facilities have a total capacity of 25 pax and equipped meeting halls have a total capacity of 60 pax
Sports & Recreation: Besides,disco is additional kind of recreatinal activity.
Location: The distance from Atatürk airport is 21 km.
.

RATES
SNGL
DBL/TWIN
TRPL
65.-
80.-
105.-

*All rates are in Euro.
*Buffet breakfast, VAT and service charges include to room rates.
*Except major credid cards and travellers cheques.
*0-6 age for free, 7-12 age for %50.